For the last two days of this trip we're moving to Matrei which is a small place nearby. In the preparations before this trip I pinned down two locations in my Google Maps app which I want to visit if the circumstances let me. 
At arrival in the 'Matreier Tauernhaus' I check with our local guides Eva and Stephan if the two locations are accessible for me after the heavy snow fall. I'm excited when I get a positive reply and set my alarm early. 
Always have a backup plan!
The next morning I wake up early and downstairs I ask an employee of the hotel if there is any change in the conditions and which route I should take. If I say I want to go to the 'Berghaus Außergschlöss', he asks if I go skiing? In my best German I answer him I go walking, after which he somehow nonchalant points me into the right direction, turns around and continues his work. Astonished by his reaction I take my backpack and hit the road.
It's a beautiful partially cloudy morning and the temperature, even some degrees below zero, feels ok. The hotel where we're staying is situated around 1.500 meters and I need to go up to 1.700 meters to reach my destination. The path which I'm following up the mountain is doable until I come halfway. Now I understand the question from the hotel employee about using skis, my track ends here and two small lines continue up the mountain. For a moment I thought I was clever by walking on the ski-tracks, but with every step I take I sink into 40 centimeters of snow. I'm looking at my watch and see that with this speed I won't make it back in time for the next activity.
Somehow disappointed I start to decline again to look for a good location to shoot the sunrise. During my walk up I noticed a nice cabin with animal tracks and a partially frozen creek which looked great as an alternative spot.
When I'm done shooting I walk back to the hotel to accompany the group again. They're all waiting outside the hotel and on arrival we start our walk to the ice climbing event. At the same moment the sun is coming over the mountain peaks and lights up the valley.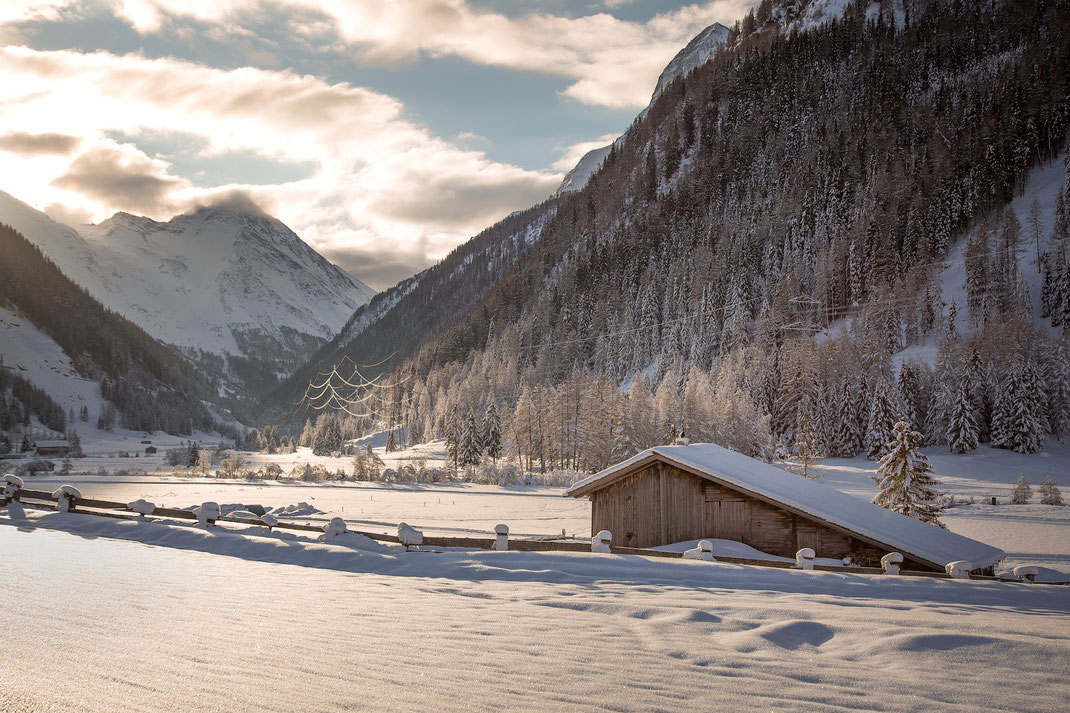 Ice climbing in Matrei
Continuing my walk to the ice climbing event brings me a small déjà vu... hmmm, didn't i see this earlier? Yep, when I look closely I'm noticing the point where I had to abort my earlier walk this morning. The event is just below the path I walked and in a distance I see somebody climbing the blue/green ice.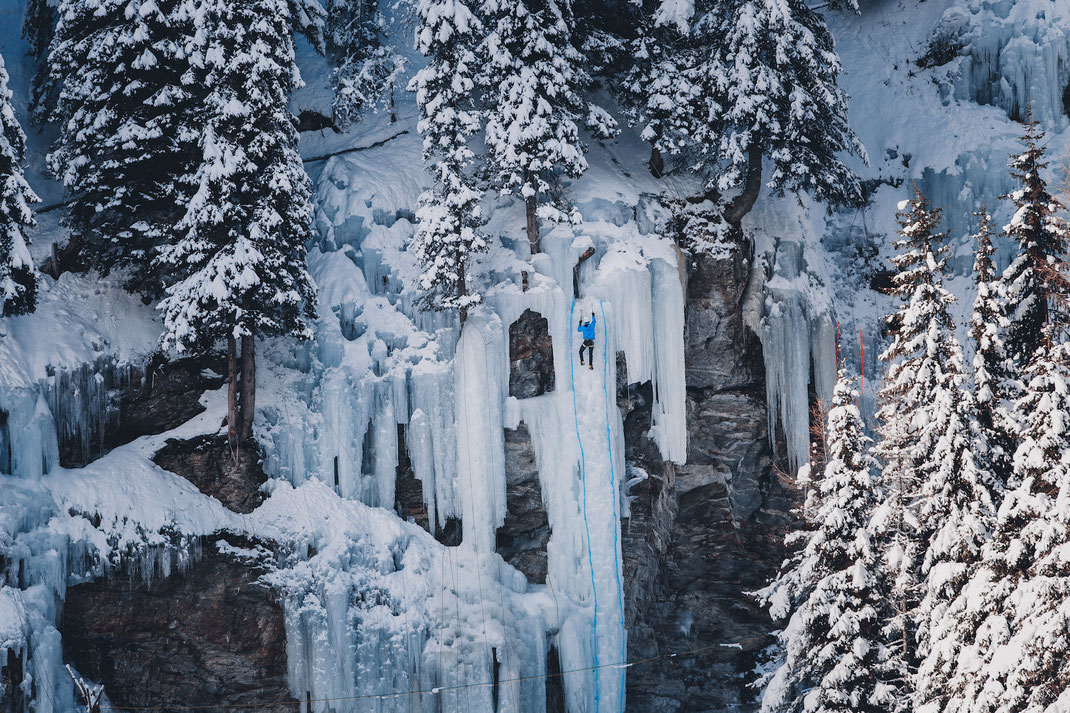 Determined to go to Berghaus Außergschlöss
During the day I'm beginning to feel pissed of about the fact that I had to aboard my walk this morning and not made it to the 'Berghaus'. Before this trip started I've set my sight on making a picture of that place in snow during sunset or sunrise. Stubborn as I can be I decide to make another attempt towards sunset. After finding a partner in crime, we decide to go up after the ice climbing event. Believe me when I say that this trip was hell, I've cursed myself more than once for taking the decision to go up. And did we had perfect sunset circumstances ... NO! But boy, what a rush to just stand there and having this view. We took our shots and accepted the walk down again towards our hotel.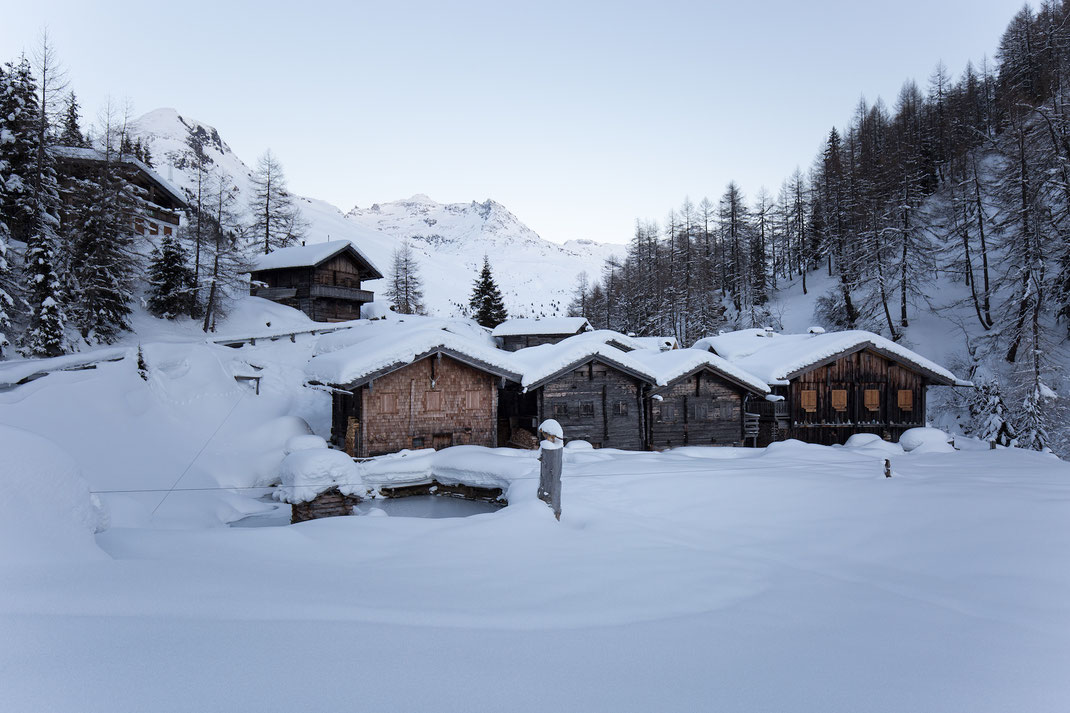 Back in the hotel a cold beer was waiting and we had a great story to tell our crew. The next morning we had to leave again, but with a smile from ear to ear on our faces we accepted the transfer back to the airport and flight to Amsterdam. East-Tyrol, you're so beautiful!